I've been trying to think of something different for breakfast. We have been in a bit of a breakfast rut lately.
I was thinking of making some scones or
biscotti
but Spencer brought home 2 big cans of old-fashioned oats that his boss gave him (his boss's mother is going into a nursing home and they are cleaning out her pantry).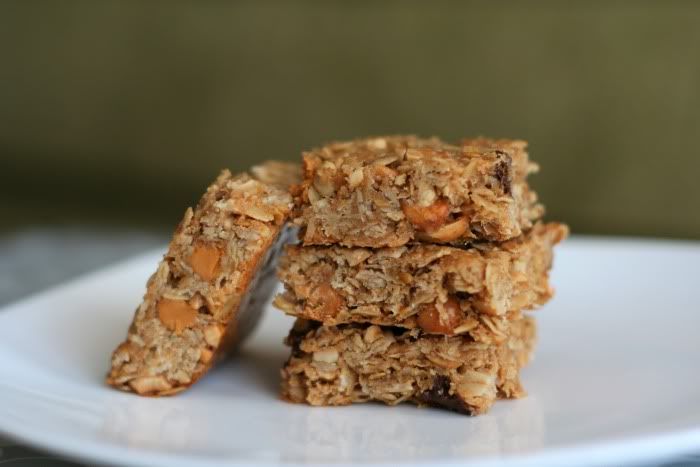 What can I make with oats?

Butterscotch Breakfast Bars

1/2 c. almond butter
1/4 c. brown sugar (packed)
1/4 c. honey or agave nectar
1/4 c. butter (I used earth balance)
1 Tbsp. coconut oil
2 c. old fashioned oats
1/4 c. coarsely chopped cashews
1 Tbsp. flax seed
1/3 c. butterscotch chips

Combine first five ingredients in a pan and heat on medium heat until dissolved. Stirring constantly. Put the oats, cashews, flax seed and butterscotch chips in a large bowl. When butter/sugar mixture is dissolved pour onto oats and stir until evenly coated.

Pour the mixture into a greased 9x11 glass dish and pat down with a rubber spatula.

Bake at 350 for about 25-30 minutes.

This turned out really good. Everyone in the family approved.:) I think next time I make them I will try adding dried apples and cinnamon. Dried cranberries and white chocolate chips would also be a good flavor combination.

Enjoy.

Go to my

linky

party page to see where I am taking these today.