I spent the day making chocolates for a
Chocolate Lover's Festival
. With a name like that how could I not participate?
It's a great fundraiser that supports several organizations in the community. Unlimited chocolate for a minimal fee
and
for a good cause. I'm a sucker for a good cause, especially if there is food involved. :)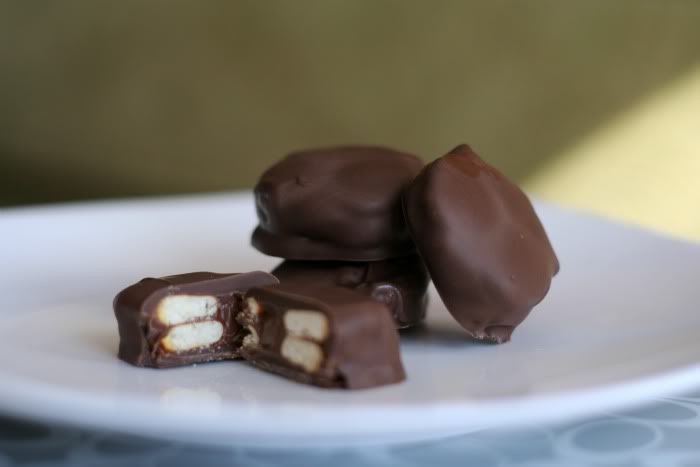 I seriously underestimated the time involved in making 100+ pretzel sandwiches. Or the mess. There is not a surface area in my kitchen right now not covered in chocolate!
Willy Wonka would be jealous.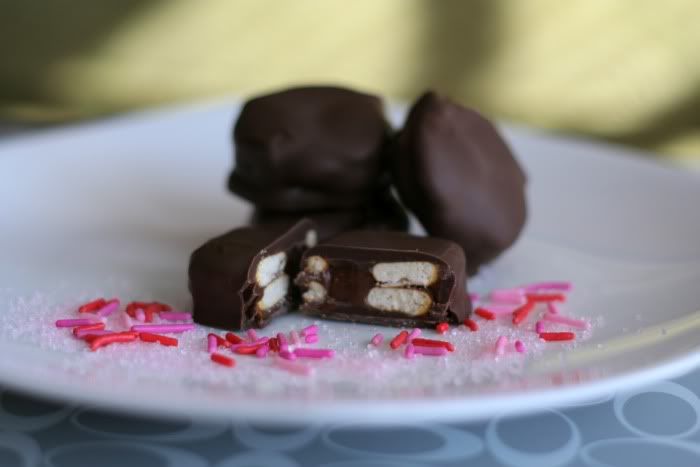 But, it was definitely worth the effort.
They are delicious and bite sized which, turns out, is a lethal combination. Before I knew it, I had popped three or four of these little treats in my mouth!
Then we had to do quality control. :)
Want the recipe?
Nutella Pretzel Sandwiches
alternate title: bite sized deliciousness
1 large bag mini pretzels
jar Nutella (I used 2.5 jars)
chocolate melting wafers
unlimited free time
dishwasher and house-keeper would also be a wise investment;)
It's just as simple as it sounds. Smear Nutella between two pretzels. Do this x100...freeze for about 30 minutes to "set up."
Take them out of the freezer and dip in the melted chocolate. Place on parchment paper to dry.
This would be a perfect Valentine's Treat.
Question of the Day:
Is there such a thing as too much chocolate? I think I've reached my limit. Next week it's nothing but salads and green smoothies for me!
amelia
linky party