My wife came up with an idea for date night. She wanted to cook a spaghetti squash and top it with tapenade. I myself love tapenade and have made it several times, so she asked me if I would make the tapenade for her.
Tapenade is traditionally and olive based dish with capers, anchovies, and olive oil. I am a big fan of capers but not such a big fan of anchovies. I usually substitute portobello mushrooms for the fish. Though this night we were out of shrums so I used a bit of chopped roasted red pepper. Tapenade is also traditionally finely chopped or pureed, but I like mine chunky.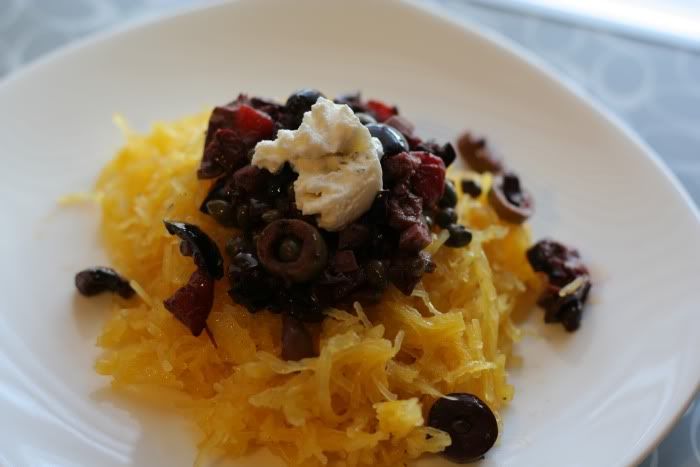 Spencer's Chunky Tapenade with Red Wine
2/3-1 cup coarsely chopped olives (I combined Italian, black, and green olives)
2 tbsp capers (I don't chop them, but you could)
1/4 cup chopped roasted red pepper
1 tbsp olive oil
1/3 cup red wine
1 tsp dried oregano
1 tsp cavenders greek seasoning
1 tsp onion powder
black pepper to taste (no salt in this, the olives and capers got you covered)
1 tbsp goat cheese (optional)
Heat a skillet to medium heat and add olive oil. Then add in the olives and red pepper, allow to cook in the oil for 2 minutes. Then add the capers with just a bit of the juice for flavor. Follow this with the wine and cook until the wine is reduced (roughly 7-10 minutes). Place on warm spaghetti squash, top with goat cheese and dig in. Tapenade is also great with crackers or pita bread, or really anything you can come up with!
Enjoy.
Have you entered our
Giveaway
yet?
spencer
linky party