We just had a big chili cook-off fundraiser for our school. Since I am on the fundraising committee I have been working like mad on it for about 4 months.
As you might guess it is stressful and a major time commitment. But the money that is raised goes directly to the school to help pay our wonderful teachers.
When you look at it that way, it is definitely worth the sacrifice. :)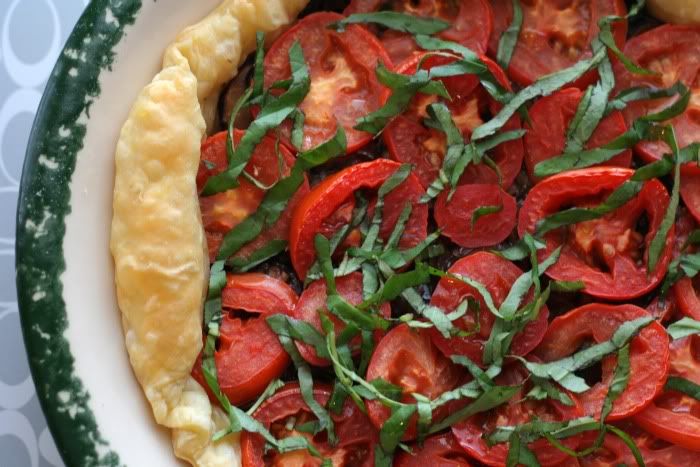 Today I am free.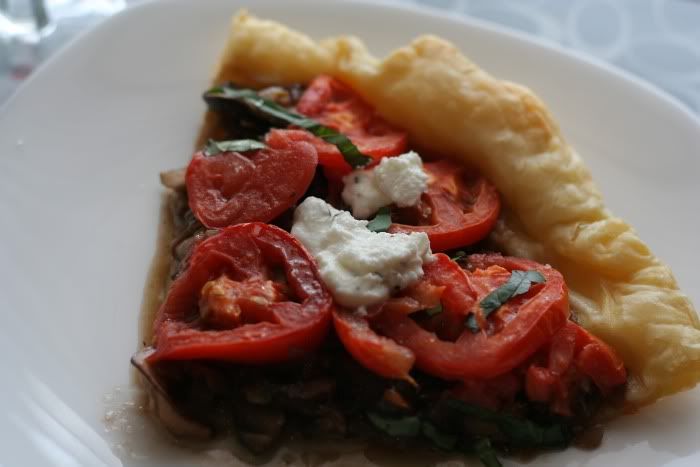 The chili cook-off is over, the boys are with their grandparents and Spencer is at work!
I.am.all.by.myself.

We just ordered several books from Amazon.com and one of the books is The Balanced Plate by Renee Loux.

When you open packages from the mail doesn't it feel like Christmas Morning? :)

There are many delicious sounding recipes in the book, the first one I tried was this:

Tomato and Portobello Torte

3 Tbs. olive oil
1 medium sweet onion
2 tsp. aged balsamic vinegar
1 tsp. honey
4 c. chopped baby bello mushrooms
1 tsp worcestershire sauce
2 Tbs. red wine
1 sheet puff pastry
1 tsp. dried oregano or 1 Tbs. fresh oregano
3 tomatoes, sliced 1/4" thick
salt and pepper to taste
fresh basil

Saute onion in olive oil until tender 3 to 4 minutes then add the balsamic vinegar and honey and continue to cook for a few minutes. Add the chopped mushrooms, worcestershire sauce, and red wine. Cook until all veggies are soft and aromatic.

Meanwhile, rub olive oil on 9 inch pie pan and lay one sheet of your puff pastry into the pan tucking into the corners.

When mushroom mixture is done pour out onto puff pastry shell and sprinkle with oregano, salt and pepper. Layer the tomatoes on top. Tuck any excess pastry onto tomatoes or onto itself whichever you prefer. Bake covered at 350 degrees for about 20 minutes, uncover and bake for 20 minutes more.

When it comes out of the oven sprinkle with freshly chopped basil. I also added a dollop of goat cheese. :)

Enjoy.

We accidentally ordered two of the cookbooks. So I'm going to give one away in celebration of 1. the conclusion of the chili cook-off, and 2. a free, lazy day at home.

(How To Enter)

Mandatory: you have to leave me a comment about why you want to win, or what your favorite cookbook is, or if you like to get packages in the mail.

(Extra Entries)
One extra entry if you follow my blog and for every way you share about the giveaway. You can blog about it, facebook it or tweet it. Then come back and let me know. Leave a comment each time you do something. :)
The giveaway is closed!!

Giveaway ends February 27 at 8:00 pm central time.

Good Luck.

amelia