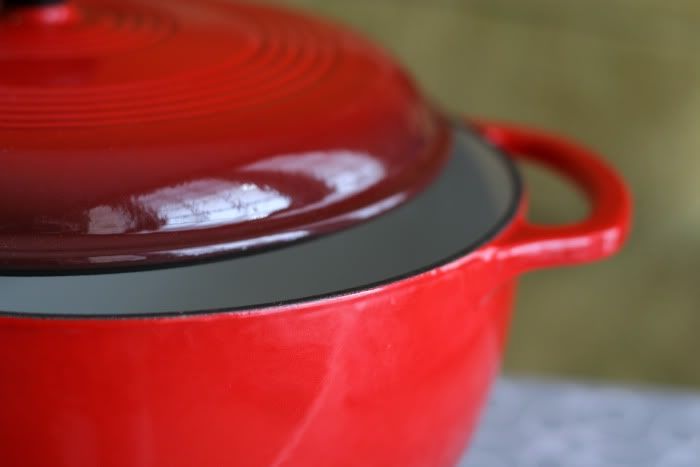 We acquired this dutch oven for Christmas, and we use it for everything.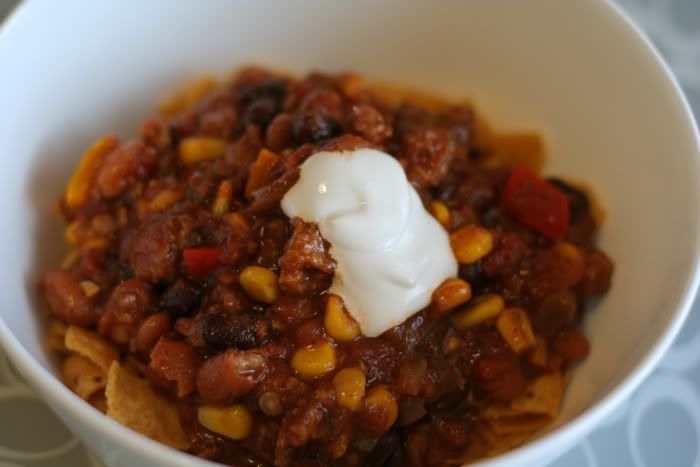 We have a big fund raiser for our school each February that is a chili cook-off and auction. I have entered my vegetarian chili the last 2 years and taken 3rd place against all those serious meaty contenders. This year I decided I had to make a change and see if I could move up from 3rd!
I have been racking my brain on what to do with my chili that could really improve the flavor. Then it hit me while reading my wife's blog. Our
ranchero sauce
! The recipe that follows was smokey and spicy. I hope it will get me that coveted first place prize!
Spencer's Chili Ranchero


1 Tbs. olive oil
1/2 medium onion chopped
1 tsp cumin
2 tablespoons dried oregano
2 bell peppers chopped (I used a red and yellow for color)
2 4 oz. cans of green chilies
1 package of veggie crumbles (I use morning star)
1 32 oz. can crushed tomatoes
1-2 16 oz. cans of diced tomatoes per your preference
1/4 cup chili powder
1 tablespoon black pepper
salt to taste
1 can red kidney beans (rinsed)
1 can pinto beans (rinsed)
1 can black beans (rinsed)
1 package frozen corn
I cooked this in our dutch oven, it works great to prevent sticking to the bottom while you simmer.
Cook the onion on medium heat with the oil until it is translucent, then add cumin, oregano, and salt. Mix in the bell peppers and the green chilies, cook until peppers our tender, I like to cover the dutch oven for this step to cook the peppers faster. Add the crumbles and cook for 5 more minutes.
Now its time to add your tomatoes, chili powder and black pepper, and about a cup of water to help simmer (I used some of the water I saved while cooking the veggies for my ranchero sauce).
Stir in all the beans and simmer for 35-45 minutes depending on your preference. I added the corn in the last five minutes and stirred in the ranchero sauce at the end until I reached the heat and flavor I wanted.
We usually enjoy our chili with corn chips and sour cream.
To see where I am taking my chili today go
here.
spencer