I've been thinking of making a bit of birdseed bribery for our feathered friends.
I am not above bribery at all...I have used it for years as a mothering tool ;)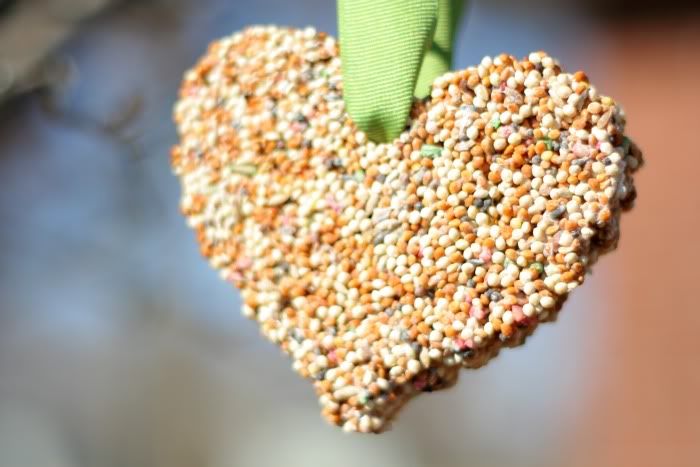 I found a recipe for these cute birdseed ornaments from
here
.
I'm generally not a very crafty person. But I do like to do
some
craft time with my boys.

I picked up some heart-shaped cookie cutters at the grocery, most everything else we had in the pantry.

Here is how we made them.

Bird Seed Ornaments

3/4 c. flour
1/2 c. water
1 envelope unflavored jello
3 Tbs. corn syrup
4 c. bird seed

Mix everything together until evenly coated. Press into muffin tins or cute cookie cutters. Put plastic straws in the top to form a whole for the ribbon to go through.

Let them set for 3-4 hours

Carefully remove them from their molds.
String a pretty ribbon through and hang into the trees in your yard.

Congratulate yourself for being so arty-crafty and for being such a cool Mom. :)
Go to the
linky
parties page to see where I'm
hangin
today.