We had my Mom and Step-Dad over for supper the other night and soup was on the menu. I love making soup, especially in the winter! Tomato bisque is a family favorite. It is easy to make but tastes so good everyone is always impressed when I serve it.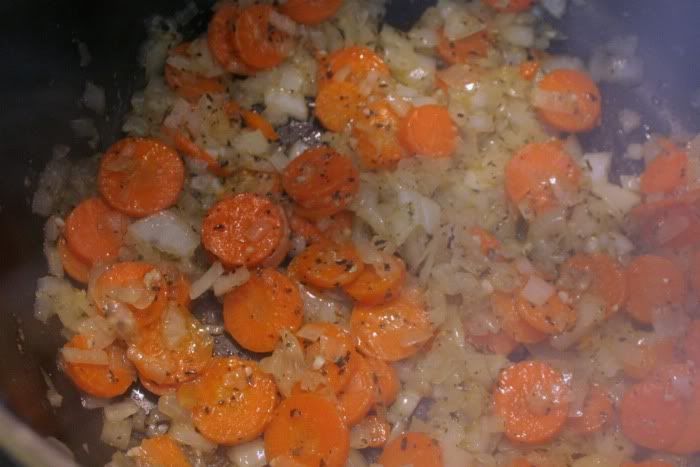 I like making "bisque" type soups too because I can sneak in extra veggies that my boys wouldn't normally eat.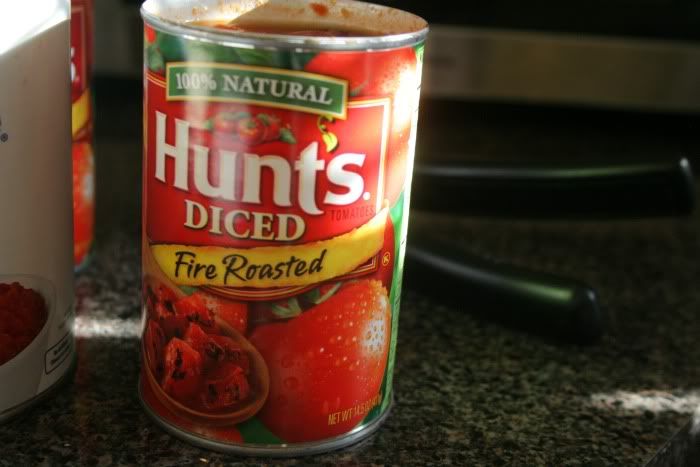 I think the secret that makes this tomato bisque so good is the canned fire roasted tomato. It gives it a depth of flavor that you wouldn't get if you just used plain canned tomato.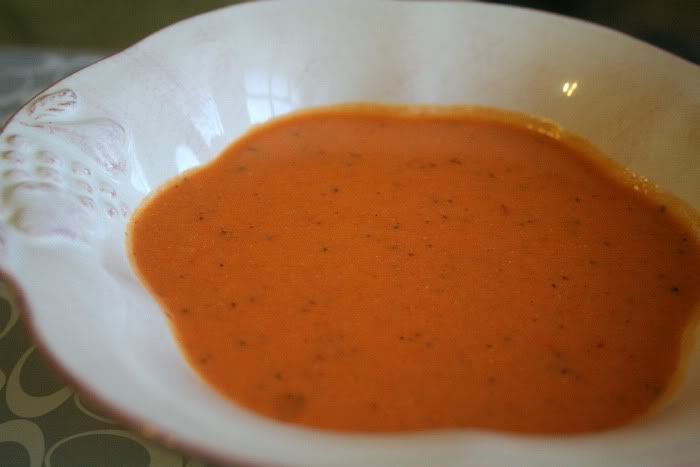 It turn out really good. Rich and creamy with very little oil added and no heavy cream.
The only thing it was missing was croutons, that would have been a nice addition. But we did have open-faced grilled veggie sandwiches on Woodstock bread so we weren't missing out on too much. :)
The original recipe was one that was passed to me from my sister and I'm not sure were she got it. She has several good vegan cookbooks. I usually take the bones of a recipe and change it to my tastes. You know you do it too. :)

Creamy Vegan Tomato Bisque:
1 onion chopped
2 carrots sliced
2 garlic cloves
1-2 Tbs. olive oil to saute veggies (or you can use veggie broth)
4 c. vegetable broth
1 28-oz. can fire-roasted tomato
1 28-oz. can crushed tomato
1 Tbs. whole wheat flour
1 tsp. dried thyme
1 tsp. dried basil
1/2 c raw cashew pieces for "cream"
salt and pepper to taste
Saute the onion garlic and carrots in the oil or broth whichever method you chose until they are soft and the onion is beginning to caramelize. Stir in the ww flour and seasonings and cook for another minute.
Add the broth and the cans of tomato and turn to med-high heat until boiling. Once it starts to boil turn heat to low and simmer on cook-top about 30 minutes adding more liquid if needed.
Once your soup is simmering your kitchen will be filled with a tantalizing aroma and everyone will be making their way to the kitchen to see if Mom needs help with supper.
After you have snacks set out of everyone you will make the cream.
1/2 c. raw cashew pieces rinsed well and put in blender with enough water to cover. Blend until creamy. Adding more liquid to the consistency you want.
After the soup is done use a hand blender to puree the tomato and other veggies while they are in the pot. Add the cashew cream.
Enjoy.
It's simple, it's delicious. It's by far our favorite soup. :)
Question of the Day:
Do you eat more soup if the winter? What is your favorite soup?
amelia