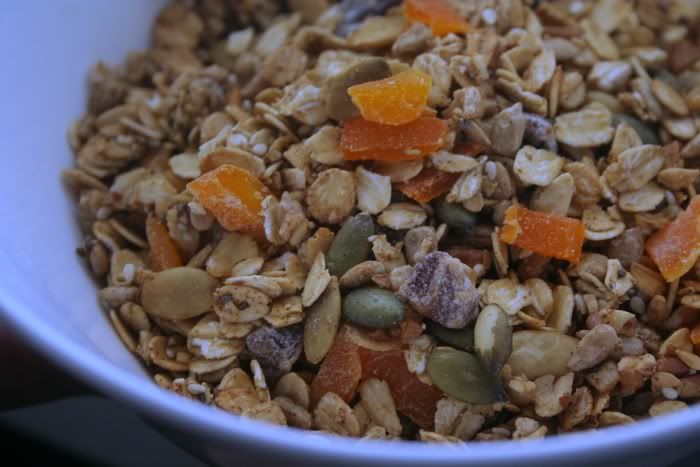 this is week 2 of the
ETL
6 week program. I only "cheated" a few times last week with extra bread servings and too much olive oil. I have no trouble giving up dairy, but oil? No way. Might as well ask me to give up my first born, or shopping, or chocolate (oh wait, that's not on the diet either)!
Over all I feel really good. no heartburn or bloating which is how I sometimes feel with dairy.
I also came up with a good granola last week. It is slightly sweet and has a good, satisfying crunch.
amelia's sweet and satisfying granola:3 c. rolled oats1/2 c. chopped pecans2 Tbs. flax seed1 Tbs. chai seed1Tbs. sesame seed3/4 c. raw pumpkin seed1 Tbs. canola oil (i just had to)1/3 c. raw honeychopped dates and mango to equal 1 c.
combine wet with dry ingredients until coated evenly except for mango and dates
pour onto parchment covered cookie sheet
bake at 300 for about 15-20 min.
sprinkle the mango mixture onto the granola just as it comes out of the oven.
enjoy with fresh blueberries or over yogurt. yum. :)
I'm going to stop by
here
today.
Question of the Day:


anyone have a good granola recipe without oil?
sesame seeds are more than just a garnish for chinese food. they are a good source of calcium and lots of other goodies you can read about
here.
amelia