We had my in-laws over for supper last night and I was in the mood to make something sweet.
Spencer is of the mind that if it's not chocolate it's not worth eating.
However, my mother-in-law likes lemon just as much as I do.
So, this is what I made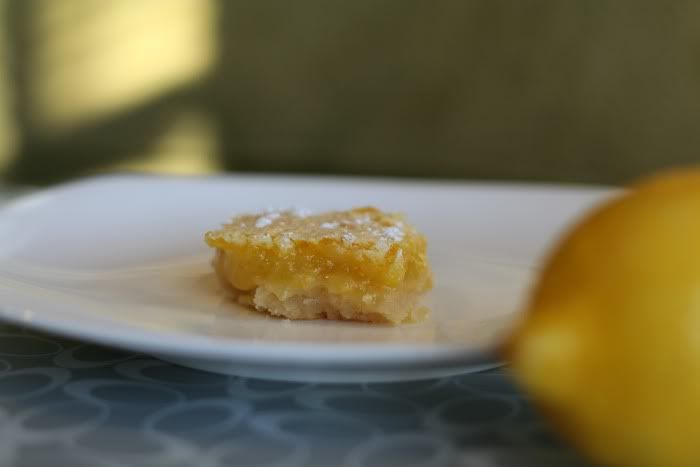 Lemon bars, yum. :)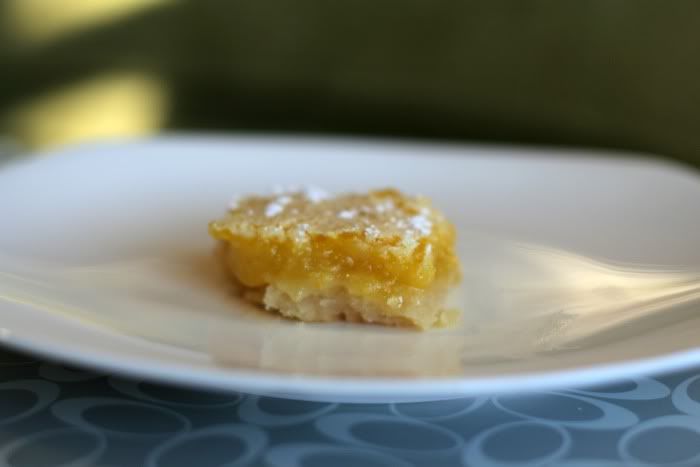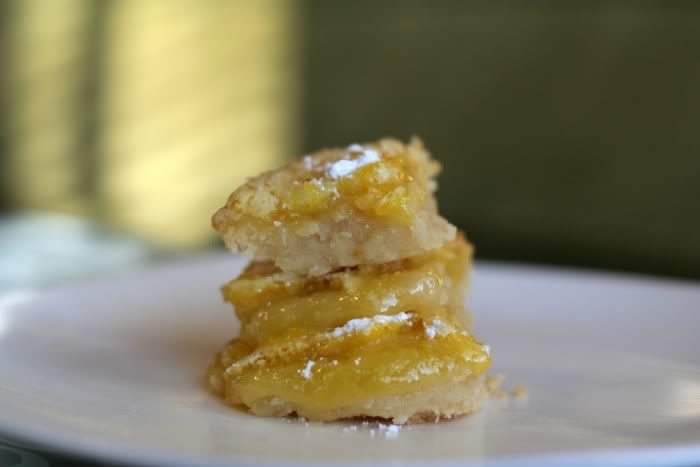 (the leaning tower of lemon bars)
I got the recipe from this
blog
. As soon as I read the recipe I was in love. And their photography...love it!

I was trying to recreate the cool stacked look that they did. But the lemon bars were so gooey they kept sliding off of each other. Then I would stack them back up, lick off my fingers and the plate, take another shot...and start the whole process again.

I was seriously cracking myself up.

Finally, I gave up on getting the "perfect" shot and just settled for the ones you see above.

Too much more "food styling" and my family would have found me in the corner of the living room in a self-induced sugar coma. :)
Here is the recipe--taken from here:
just cook already
. In fact, you need to just go there, look at their pictures, drool over their recipes and then email them and beg them to let you submit a recipe for their cool site like I did. :)

Lemon Bars

1c. butter
1/2 c. powdered sugar
2 c. flour
3 eggs
2 c. sugar
8 Tbs. lemon juice
zest of one lemon
4 Tbs. flour
1 tsp. baking powder

cream together butter and sugar then slowly sift in the flour.
Press this into a greased 9x11 pan and bake at 350 for about 10 minutes.

In the mean time combine the rest of the ingredients together in a large bowl.

When the "crust" comes out of the oven pour the sugar/lemon mixture over it and bake.
They suggested 20-30 minutes.

I baked mine for 27 minutes but next time I will go for a full 30 (so I won't have the gooey problem).

Enjoy.

This dessert was so good even my chocolate lovin' snob of a husband loved it. :)
To see where I party go
here.


amelia