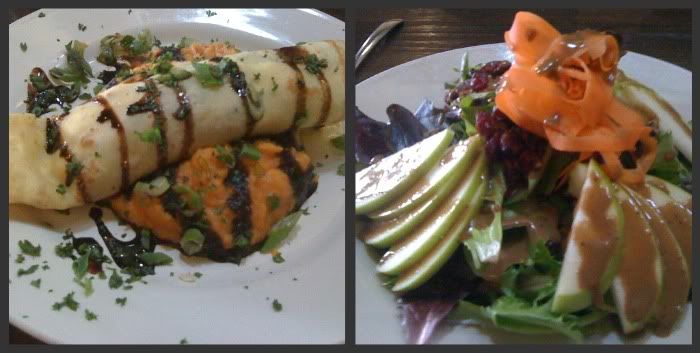 Yesterday Spencer and I had the day off together and we drove into town to run some errands. Town for us is about an hour away. The distance to town is actually a good thing because we are on a pretty tight budget and making that trip has slowed our spending down so that now most purchases we make are deliberate and well thought out.
One of our favorite places to eat is a locally owned restaurant called
Greenhouse Grille.
We eat there as often as we can. The food is organically grown from local area farmers. They also use the
Fayetteville Farmer's Market
when seasonally available and they have a little veggie garden right out the front door of the restaurant.:)
We split the greenhouse salad and the savory vegetable crepes. The salad had crisp, tart, thinly sliced apples, carrot ribbons, candied pecans and dried cranberries over a bed of greens drizzled with homemade balsamic vinaigrette. Every bite was perfection. The crepe was resting on a bed of whipped sweet potatos and loaded with fresh, perfectly grilled veggies with subtle touches of goat cheese. Yum!
They have made a location change since they open their doors in 2006 (Wow has it been that long)? The space they are in now is a large warehouse with sleek modern decor with an artsy vibe courtesy of local artists. There is that word again: Local. Gotta love it.:)
I even noticed on their website that they bring in musicians on certain nights of the week for live music. Can I say date night or girl's night out?!
Disclaimer: all opinions in this post are my own. I was not paid, bribed...etc to gush on so. I am not their old college roommate, neighbor down the street or first cousin.:) I just really love the food. And if you are a local or are ever in the area I suggest you make reservations
here.
P.S. I would not be opposed to taking a bribe in the form of Shiitake fries;)
Do you like crepes and if so do you prefer them savory or sweet?
Amelia